20 Ways to Help

Adopt a Rescued Dog

Build Fences

Care for & Train Dogs

Donate Money

Educate Kids

Find Homes

Get Handouts & Stuff

Learn the Facts

Talk to Owners

Watch Celebrity PSAs:

Chaining/Dogfighting
Dogfighting

Watch Chaining PowerPoint

Visit Dogs Deserve Better to join others helping chained dogs!






Want to donate $5 to UnchainYourdog.org?
Sign up for Ebates! You get a $10 welcome check and I get $5 toward this site's hosting fee.

Before you shop, start at Ebates.com, then choose from 1,800 stores such as Target & Amazon. Ebates gives you a percent back of your purchase. No points to redeem, no forms to fill out. You get a check in the mail or Amazon credit every quarter. It's that simple!



News: Cruelty and Neglect
Laws | Chained Dog Attacks | Cruelty/Neglect/Dogfighting | Other News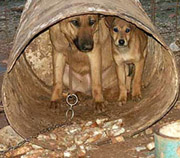 Chained dogs often become part of the scenery in someone's backyard, left to starve.Chaining can also be a sign of an illegal dog-fighting operation. Read below for evidence that chaining is a very common form of animal cruelty.

(This page is no longer being updated. Set up a Google alert to get current news stories.)
Special Articles and Official Statements
For editorials and statistics from the CDC, AVMA, and USDA, read special articles and official statements that illustrate how chaining is inhumane for dogs and dangerous for people.
---