18 Ways to Help a Chained Dog
Get Brochures, Letters, Flyers, Door Hangers & Stuff to Distribute
Bring your dog inside! He will be so happy, and you will have a new, true friend. Dogs want to be inside with their "pack" - you! Read training tips to help your dog be a good "inside" dog.

Inside dogs make the best guard dogs! It will take time for your dog to adjust to the new environment, but will be so worth it.

Get to know the dog's guardian if you are concerned about someone else's chained dog. Read tips on talking to an owner.


Put up a fence.

Fences give freedom and make it easy for you approach your dog, since he won't be

jumping on a chain. Ask fencing companies for leftovers or post to social media asking for help with labor or supplies.

Watch video or visit our Building Fences page.

If your dog can escape your fence:



Extend fence height with mesh fencing.
Attach bamboo fencing, which comes in 6-foot rolls, to existing fence. It's hard to climb.
Install an electric fence. At Petsmart you can buy electric fence kits for fenced and unfenced yards.
Install a "hot wire" to the top of your fence. Call a farm supply store for advice.
To stop diggers, bury chicken wire under the fence or put concrete blocks around it. You can dig a trough under the fence and fill it with concrete (along the whole fence or in "trouble spots").


Spaying and neutering will help the dog calm down and stay closer to home. Sterilization will NOT change your dog's personality but provides health benefits. Sterilized dogs still make great guard dogs and hunting dogs. Contact your humane society or SpayUSA at 1-800-248-SPAY (7729) | SpayUSA@AnimalLeague.org.

Replace old collars with a new nylon collar. You should be able to fit two fingers between the dog's neck and the collar. If you need to add a hole to a collar, hammer a thick nail through it.

Provide food and fresh water every day. Put a bowl hole in the ground to keep it from tipping. Attach a bucket to a doghouse or fence with a bungee cord. Farm supply stores sell rubber livestock bowls that won't tip.



Provide good shelter in winter.



Dogs get cold like we do! If you can't bring your dog in, fill doghouses with hay or cedar from farm supply stores.
To keep cold air out, cover the door with a plastic flap, car mat, piece of carpet, towel, or blanket.
Doghouses should be large enough for your dog to stand up and turn around, but small enough to trap body heat.
Wooden doghouses should be raised a few inches to keep out water. You can place it on concrete blocks.
Ensure water isn't frozen!


Provide shade and a kiddie pool in the summer.

Doghouses get hot in summer! Plant trees or create shade by stretching a tarp between trees. Dogs enjoy cooling off in a baby pool!

Give toys and rawhides.

A big rawhide from the grocery or even knotted towel or ball provides fun!



Go on walks!

Your dog will be so happy to get of the yard, and it's great exercise for you!

Leash training will take some time, but it's so worth it! Harnesses that hook in front are a great way to control large, strong dogs.

If the dog belongs to someone else, offer to walk the dog yourself!

Go to school!

Obedience classes at pet stores can help your dog learn to be a good "inside" dog.



Protect from fleas and worms. Biting insets make life miserable. Pick up flea treatment at grocery/pet store. Farm supply stores sell supplies cheaply. Heartworms could kill your dog - get preventative at the vet. fact sheet on parasites

Change the law in your community to ban chaining!

Call your local animal control
, humane society, or sheriff's department if you see a dog:
Without food, water or shelter
Sick or infested with parasites
Too skinny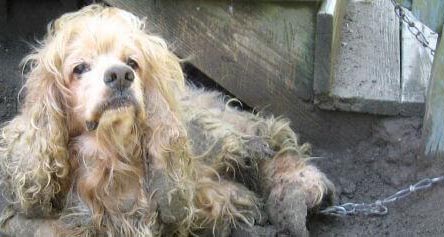 A city/county official or humane society must investigate if the owner is breaking your community's animal cruelty law. In most places, it's considered cruel to leave a dog without food, water or shelter; to not provide medical care; and to keep a dog hungry. If your city doesn't have an animal cruelty law, your state law will have an animal cruelty section. Do a keyword search for "Your State Code" or "Your State Statutes."
Once you report the situation--don't be afraid to follow up! Keep calling authorities until the situation is resolved. If animal control doesn't respond, write a letter to your mayor. The dog is counting on you to be his voice.
Educate people about chaining! Keep some educational brochures and flyers in your car. If you see a chained dog, put a brochure in that person's mailbox.

(You will need Adobe Acrobat Reader)



18. Choose to take ONE STEP today toward helping a dog. You may not be able to save all the neglected dogs, but surely there is one thing you can do today to improve a dog's life!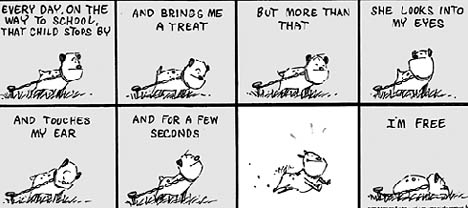 Guard Dog, from Mutts comic strip. Used with permission.
---