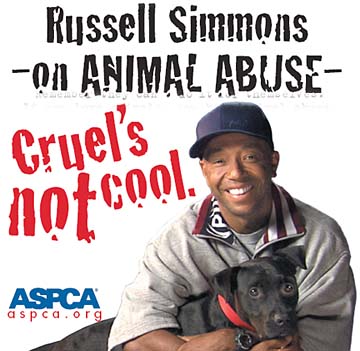 Many people end up at www.UnchainYourDog.org because they are looking for information on dog fighting. We agree with hip-hop mogul Russell Simmons that Cruel's Not Cool (Listen to Simmons or see poster).

Please, have a heart and treat other living and feeling creatures the way you want to be treated: with respect and kindness. Dogs are social animals who - in the wild - hunt together, sleep together, and play together. It is a dog's nature to respect the pack leader and get along with the rest of the pack. Not to fight. Dogfighting is cruel, unnatural, and wrong.

Dog fighting is a felony, so report it to the police! To learn more about dog fighting and how to stop it, visit our Dogfighting page.



Brutal World of Dogfighting is Seen in Texan's Slaying
By Jack Douglas Jr.
Star-Telegram Staff Writer
www.dfw.com

August 27, 2006, CLEVELAND, TX -- In the dead of night, amid the thick woods of Southeast Texas, at least two gunmen broke into a house full of sleeping dogs, rifled through the place looking for a stash of cash, then shot the homeowner in the leg as dozens of angry pit bulls rattled their cages and strained their chains.

Investigators believe the intruders did not intend to kill Thomas Weigner in the early hours of Aug 1. Instead, they were trying to torture him into revealing where he had hidden $100,000 in cash, the amount wagered in a single high-stakes dogfight two weeks earlier south of Houston.

But Weigner, 27, described by police as a well-known breeder of fighting pit bulls, quickly bled to death, causing his attackers to flee, presumably without finding the loot.

Authorities who have been searching for his killers say they have stumbled across a startling trail of information that reveals just how organized, widespread and dangerous the underground world of wagered dogfighting has become, stretching from Texas and other states to as far away as Puerto Rico and Ecuador.

Players and participants include the rich and the poor, pitting one snarling dog against another in urban ghettos and rural woods. The winning prize can range from a few dollars to more than $100,000, money that law enforcement officers say is more often stashed in homes rather than banks to keep authorities from tracing the booty.

'Right under our noses'

"Where's the money!" the intruders reportedly kept screaming at Weigner as one of them shot and killed a pit bull that had broken free from its restraints.

Weigner's wife, Julie Laban, and her 7-year-old son witnessed the shooting of her husband, investigators were told, while Laban's two other small children and her parents lay bound in other parts of the house, located about five miles from the small town of Cleveland, 45 miles northeast of Houston.

Investigators are concerned that Weigner's attackers -- thought to be two men inside his house, another standing outside as a lookout and a fourth in a getaway car -- will be killed, before they are arrested, by those within their circles who are angry that police are now bearing down on their illegal network.

"This dogfighting deal is right under our noses. It's a big deal ... probably as big as the underworld drug business. It's everywhere," said Det. Sgt. Kenny Dagle, the Liberty County sheriff's investigator who is leading the homicide investigation, with assistance from the FBI, the Texas Rangers, the U.S. Postal Service and animal control officers in Houston.

"It's just another world out there," Dagle said.

In phone and e-mail interviews, John Goodwin, deputy manager of animal-fighting issues for the Humane Society of the United States, agreed that organized dogfighting, a felony offense in Texas, is reaching epidemic proportions nationwide.

"Texas has historically been a hub of organized dogfighting," Goodwin said from his headquarters in Washington. "I would estimate there are tens of thousands of dogfighters in the United States."

Goodwin said it was believed that Weigner belonged to an "international network of game dog breeders" that "fight for big money and then put their winners out to stud for high fees."

"It was only a matter of time," he said, "before dogfighters would start killing other dogfighters to get that cold, hard cash."

A shocking scene

Weigner started his work in western Pennsylvania, naming his operation Westpenn Kennels, and quickly became known as one of the "top dogfighters" in the country, Goodwin said. He was believed to have been associated with a pit bull breeding operation in Ecuador that produced the "Mayday bloodline," which Goodwin said was a "very popular line of fighting dogs."

Investigators say they have been told that about two weeks before his death, Weigner bet $50,000 that one of his fighting dogs would beat another dog during a bout in the shadowy woods south of Houston. He won, they said, and possibly took his money, and the loser's $50,000, back to his home.

"I feel that someone associated with the killing was at that dogfight," said Capt. Chip Fairchild, head of the criminal investigations division of the Liberty County Sheriff's Department.

Weigner's wife has moved her family back to their home in Pennsylvania and could not be reached for comment. Her Houston attorney, Dick Wheelan, said she had no knowledge of any organized dogfighting and was not aware of any large sum of money hidden at her Texas home.

At the time of his death, Weigner had about 300 pit bull terriers on his 22-acre property, with 30 of them caged or chained inside the house and garage.

Officers said they were shocked when they came upon the scene. Inside the wood and brick home, drawers had been pulled out, shoe boxes dumped over, and a wide swath of blood marked where Weigner had staggered from one room to another before he bled to death, a process that authorities said took no more than 8 minutes.

Investigators also found heavily muscled but otherwise unhealthy dogs tethered to stakes or placed in small pens, pacing and panting on littered ground marked by ringed pits where some of the fight training took place.

Alvy Scott, a farmer whose land adjoins that of Weigner's, said his neighbors moved in about two years ago with "just a few dogs." But as time went on, "the dog population just kept increasing and increasing. ... It got to be pretty smelly," Alvy said.

He added that his only concern was that if his own mild-mannered dog, Patches, got too close to Weigner's pit bulls, "they'd eat her up."

Black market trade

As people-friendly pets, the bow-legged, square-faced animals were worth virtually nothing, investigators said. But as vicious fighting dogs -- trained on a makeshift treadmill and forced to swim to exhaustion in an open tank of water -- they could bring as much as $1 million on the black market that trades in the animals, officials said. Some of the dogs, they said, could have been worth as much as $25,000 apiece.

Animal control officers took custody of 285 of the pit bulls from Weigner's property, and a judge has ordered all but those 6 months and younger put to sleep.

Courtney Frank, spokeswoman for the Houston Humane Society, said the majority of the dogs have been euthanized, while a "few dozen" of the pups are being treated at the Humane Society's shelter in far south Houston.

An around-the-clock police guard remains at the shelter, Frank said, after several people tried to "bully their way in" to get to the pit bulls, and one man actually got through the fence and came "pretty close to the dogs."

It has become obvious that "a lot of people have a lot at stake in getting these dogs back into some breeding situation," Frank said, adding that many of the dogs were "bred supposedly for maximum aggression, both mentally and physically, and that is appealing for underground circles."

Authorities are also investigating death threats against the Houston Humane Society and Sgt. Mark Timmers, an animal cruelty officer for a Harris County constable who worked to seize the pit bulls from Weigner's property.

Timmers said that as officials prepared to begin euthanizing the animals, he received anonymous e-mails such as these:

"The dogs die, you die."

And, "You're taking out the best bloodlines, so we're taking you out."

An underworld of crime

Such a threatening response to the seizure of nearly 300 mean dogs has made law enforcement officials more aware of just how desperate dogfighters can become if their network is endangered. And such concerns have resonated all the way to Congress.

U.S. Rep. Mark Green, R-Wis., has introduced legislation that would make it a federal felony, rather than the existing misdemeanor, to transport animals over state lines for the purpose of a wagered fight. The U.S. Senate has already passed such a proposal, and Green said he is confident his bill will pass the House, with plenty of nonpartisan support.

Dogfights are "extremely cruel and distasteful," said Green, who sits on the House Judiciary Committee. "But what really caught my attention," he said, "was the evidence that a lot of organized crimes and violent crimes are linked to the underworld of bird- and dogfighting."

Organizers of such events consider existing federal laws to be little more than "a slap on the wrist," the congressman said.

The killing of Weigner has sparked a flurry of talk on the Internet about a band of violent robbers traveling the country, targeting dogfight winners and breeders who are putting their large cash prizes in clothes drawers and shoe boxes rather than in banks.

"It seems the home invaders are part of a traveling professional squad that has now done the same in Detroit, GA and SC. They target those with the dogs, come in hard and will shoot anything that gets in their way," said one Web site, Boxdogs.com, which calls itself an online newspaper "dedicated to the coverage of all news about the American Pit Bull Terriers and other Game Dogs."

The Web site said the group of four robbers has a "list of the top dog men in the country and are traveling around to find them. ... They don't speak loud, yell or go crazy. They know what they want, MONEY, and will do anything to the person to get it."

"Texas has historically been a hub of organized dogfighting. I would estimate there are tens of thousands of dogfighters in the United States."

The culture

Vicious dogs. $50,000 wagers. Death threats. Authorities investigating Weigner's death are getting a rare look into the world of organized dogfighting, and they say it's becoming more widespread and more dangerous.

The crime

Weigner, described as a well-known breeder of fighting pit bulls, bled to death after he was shot in the leg. Authorities think the attackers were looking for $100,000 in cash thought to be hidden in his home near Cleveland, Texas.



---
---