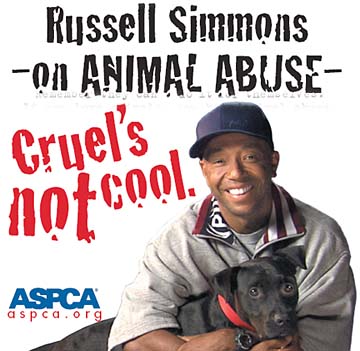 Many people end up at www.UnchainYourDog.org because they are looking for information on dog fighting. We agree with hip-hop mogul Russell Simmons that Cruel's Not Cool (Listen to Simmons or see poster).

Please, have a heart and treat other living and feeling creatures the way you want to be treated: with respect and kindness. Dogs are social animals who - in the wild - hunt together, sleep together, and play together. It is a dog's nature to respect the pack leader and get along with the rest of the pack. Not to fight. Dogfighting is cruel, unnatural, and wrong.

Dog fighting is a felony, so report it to the police! To learn more about dog fighting and how to stop it, visit our Dogfighting page.



Bust of Famed Pit Bull Line Rattles Dogfighting Circles
www.newhousenews.com
BY MICHAEL PERLSTEIN

June 7, 2005, LAFAYETTE, LOUISIANA -- It was one of the biggest police raids in the history of Lafayette Parish.

The caravan of vehicles creeping down Louisiana 89 on March 11 included a SWAT team, the State Police gaming unit and additional officers, U.S. Customs officials, the Louisiana Society for the Prevention of Cruelty to Animals, Humane Society dog handlers from as far away as Florida and Montana, and at the front, a large refrigerated truck filled with dog cages and driven by Kathryn Destreza.

Destreza, the SPCA's director of animal services, calmly went over the game plan in her head, but as they closed in on the kennel operated by Floyd Boudreaux and his son, Guy, her adrenaline spiked. Not because of the raid -- she'd been on plenty of big raids -- but at the thought of seeing, in the flesh, a pit bull terrier from the world-renowned Boudreaux bloodline.

In dogfighting, a sport that spans the globe, the pedigree is revered for producing the world's most vicious fighting dogs. Long-dead legends include Blind Billy, Maverick and Napoleon. And among the living, Reno, the "grand champion" fighter and aging stud, was among the dogs Destreza expected to confront face-to-muzzle.

"Just the thought of seeing a Boudreaux-bred dog on Boudreaux property was starting to blow me away," Destreza said. "Floyd is sort of like the `Adam' in the dogfighting world. He's the standard everybody else judges their dogs by."

Just outside the Lafayette city limits, the line of trucks and police cruisers pulled up to the Boudreauxs' property about 8 a.m. Beyond the family's fleet of rusted cars and pickups was the weather-beaten wood-frame house where Floyd Boudreaux lives with his wife, and behind that the double-wide trailer where Guy Boudreaux lives with his 10-year-old son. Old tires, rusted pipes, piles of lumber and rolls of chain-link fence surrounded a tar-paper workshop and rickety rooster shack.

But in the field behind the main compound was a sight that filled Destreza with awe and disgust: 27 pit bulls tethered beside small doghouses, many of the dogs wallowing in muddy pools of standing rainwater. Each doghouse was surrounded by a neat circular rut, the deep grooves marking the boundaries of the dogs' world as the animals strained their 6-foot chains. Reno was spotted right away by Destreza and her staff. Surprisingly, he appeared to get no special treatment, just one dog chained among rows of other dogs. Another 30 pit bulls, including puppies, were scattered in pens and doghouses.

Despite their primitive living conditions, the dogs -- all bred from the prized Boudreaux bloodline -- were hearty, healthy and, together, valued at more than $300,000, SPCA Director Laura Maloney said. Reno alone was worth at least $25,000, Maloney said.

The dogs, along with items ranging from anabolic steroids to exercise treadmills to computer records and videos, were evidence enough to book Floyd Boudreaux, 70, and Guy Boudreaux, 40, on charges of animal cruelty, illegal possession of steroids, possession of a sawed-off shotgun and 64 counts of dogfighting.

Within the secretive and tightknit community of dogfighters, the raid has become the most talked-about event in years.

Detective David Hunt of Franklin County, Ohio, one of the country's premier dogfighting enforcers, said he started hearing about the Boudreaux raid from informants hours before the story hit the news.

"The fact that his arrest spread so quickly through underground channels shows just how big he was," Hunt said. "It's a huge, huge arrest that will affect dogfighting nationally for some time."

"This isn't just a state case or a national case; it's international," said Louisiana State Trooper Willie Williams Jr. "Mr. Boudreaux is a celebrity in that world. He was the man, the king. ... Hopefully, this is going to send a message to other people who are involved: `If the king can be removed, maybe that should be a clue.' The best thing we can have is voluntary compliance."

The Boudreaux bust is part of a very recent, very active police crackdown. A month after the Lafayette raid, Louisiana State Police broke up an organized fight in the nearby town of Sunset, where they arrested 17 adults and two juveniles and found two severely mauled pit bulls "locked up" on each other in the middle of a bloody pit.

And in May, the State Police and SPCA stormed a Franklinton compound known as Dirty South Kennels, arresting owner Darren Williams and seizing 134 pit bulls. The value of one of the dogs, an alleged grand champion named Coachise, was pegged by the SPCA at $60,000.

Louisiana has long been one of the country's most fertile arenas for dogfighting, mainly because the activity flourished virtually unchecked for decades, authorities said.

Before it was made illegal in 1982, dogfighting was a fixture of Cajun country alongside cock-fighting, the controversial blood sport that has been outlawed in every state except Louisiana and New Mexico. Floyd Boudreaux grew up in an era when pit bull fights were a Saturday draw at rural nightclubs and bush tracks that also offered family fare such as barbecues, sulky racing and drag racing.

Cockfighting, with its spectacle of death, was like a sideshow at these throw-downs, held in a barn or closed pit away from those with no stomach for it. Dog matches, far bloodier and more protracted than the rooster fights, were staged even deeper into the shadows. Several Lafayette old-timers said the fights were public knowledge but largely unadvertised, held at whispered locations "in the woods" or "down the road," and usually late at night.

"Been around since I was a baby," said Virginia Lee, director of Lafayette Animal Control. "Just like cockfighting, it's become part of the culture. They always kept it away from the kids because it was so bloody, but somehow it became accepted around here."

Floyd Boudreaux, in a coffee table book of photographs by Marc Joseph called "American Pitbull," described growing up as the son of a dogman: "I've been working with the breed over half a century. I also have chickens. My dad had 'em before I did, and then I had 'em before I went to grade school. My son, too. It's always been a family affair."

In the weeks after the raid, some folks were heard to wonder why police were hassling a kindly old dog-lover and his family, while others questioned why authorities took so long to eliminate a kennel for killer dogs that operated in plain sight for decades.

"He should have been arrested a long time ago. Everybody knew about him," said Randy Hebert, who lives near the Boudreauxs. "I don't know how he was able to operate so wide-open for so long."

But Conrad Miller, a pit bull owner and friend of the Boudreauxs, said the family dog operation is misunderstood.

"All pits are fighting dogs. That's what they do," he said. "Even though Floyd goes back to the fighting days, I don't think he's fought his dogs for years. He always told me, `That's a thing of the past."'

Miller acknowledged that Boudreaux is still considered royalty among dogfighters, but he said that reputation is based on Boudreaux's long-ago triumphs in the pit. "When he goes to (dog) shows," he said, "everybody wants his autograph or they want to take his picture. He's a hero in that crowd. But he's really just a sweet little old man."

For the Boudreauxs, even harder to take than the raid and criminal charges, Miller and others said, was the euthanasia of 57 prized pit bulls. The destruction of the animals all but eliminated the family's two most sought-after bloodlines, the generations-old "Boudreaux" line and the more recent branch of fighters known as "Eli." According to authorities, dogmen from as far away as Mexico and Japan came to the Boudreauxs to purchase a pup born from that storied stock, sometimes paying as much as $10,000 for the pick of a litter.

"People came from all over the world to buy his dogs," said Jeff Dorson of the Humane Society of New Orleans and one of the state's most vocal dogfighting opponents. "Sometimes they came just to pay homage, get his autograph, have their picture taken with him. He is the top of the pyramid as far as notoriety in dogfighting circles."

Maloney said the animals were put to sleep at the New Orleans shelter a few days after the raid. She said the dogs were contraband under the law and there was no safe way to house that many dogs bred and trained to kill.

The euthanasia operation took nearly 48 hours and brought most of the staff to tears.

"I have a pit bull myself. It's my favorite breed," Maloney said. "But there was no way to rehabilitate a dog that has been so selectively bred for aggression toward other animals. If they were ever to get around another animal, they'd turn in a millisecond. It was shocking to us how vicious they'd become when they saw another animal."

The Boudreaux case was so sensitive that none of the local police agencies or animal shelters in the Lafayette area was told about the impending raid. But it didn't take long for word to get around after it went down.

Lee, the local animal control director, said her shelter got a flood of calls from local pit-bull owners devastated by the news. The raid also led to a rash of abandoned pit bulls in the area, dogs presumably cut loose by dogfighters who didn't want to risk getting caught.

The Boudreauxs, through their attorneys, deny breeding or training their pit bulls for fighting, activities that are illegal under Louisiana's dogfighting statute. Daniel Stanford, who represented Guy Boudreaux at the time of the raid, said, "These dogs were used for hunting, shows, competitive weight pulling and as pets."

The steroids, the attorneys said, were used for the dozens of roosters the family raised for cockfighting.

Floyd and Guy Boudreaux have not offered any public comments since the bust. In response to a recent interview request, Guy Boudreaux referred all legal questions to his attorney Jason Robideaux, who did not respond to several telephone calls.

Boudreaux, however, did offer a parting comment during a visit from a reporter: "My dad hasn't fought dogs in 30 years. And he gave away more dogs than he ever sold. Look how we live. Where's all the money?"

Boudreaux said he and his father are eager to tell their side of the story but have been instructed by attorneys to save it for court.

The Boudreauxs face a maximum of 10 years in prison for each felony dogfighting count. But to Louisiana State Police and animal control officers, the raid's greater significance is that it marked the biggest blow to dogfighting in Louisiana since the state banned it in 1982 and has rattled dogfighting circles around the world.

Since the arrest of the Boudreauxs, the State Police have been flooded with tips and information: Information about other large kennels selling fighting dogs. Information about fights with purses approaching $80,000. Dog-theft rings that steal family pets to be used as "bait" in the training of pit-bull fighters.

Destreza, a tough and seasoned animal handler who wears a uniform and carries a badge, said she cried more than once during the long two days in which the Boudreaux dogs were photographed and charted for scars and calluses before being led, one by one, to Room 9-5, the SPCA's euthanasia room.

Despite their rippling muscles, many of the dogs were quiet and scared, and even friendly -- just like most breeds, Destreza said. The dog handlers gave many of them pet names, even as they prepared them for death.

"Seeing those big dopey looks from those big brown eyes," Destreza said, "I cried, yes, but I made sure not to cry in front of my staff. You can't help but bond with the animals. Even as we were loading them onto the truck, you couldn't help but think about what was eventually going to happen to them."



---
---