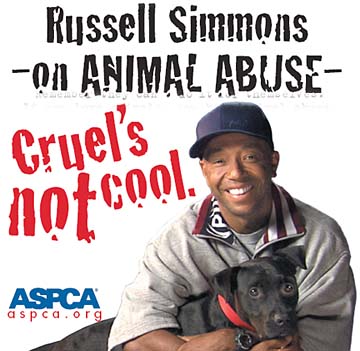 Many people end up at www.UnchainYourDog.org because they are looking for information on dog fighting. We agree with hip-hop mogul Russell Simmons that Cruel's Not Cool (Listen to Simmons or see poster).

Please, have a heart and treat other living and feeling creatures the way you want to be treated: with respect and kindness. Dogs are social animals who - in the wild - hunt together, sleep together, and play together. It is a dog's nature to respect the pack leader and get along with the rest of the pack. Not to fight. Dogfighting is cruel, unnatural, and wrong.

Dog fighting is a felony, so report it to the police! To learn more about dog fighting and how to stop it, visit our Dogfighting page.



Officials Find 50-75 Pit Bulls
www.starbeacon.com

By MARK TUSCANO

September 25, 2004, ORWELL TOWNSHIP, OHIO — A number of county officials were investigating a property in Orwell Township Friday where at least 50 pit-bull terriers were being kept. A representative of the Ashtabula County Humane Society, along with the county dog warden and sheriff's deputies were on the scene at 2477 Windsor Road to check on the health of the dogs and interview the property owner and neighbors about the situation.

Dog Warden Barry Northrup arrived at the home about 10 a.m. with a representative of the Humane Society. The property owner was not available at the time but neighbors allowed Northrup to walk back into the woods on the adjoining property to view some of the dogs.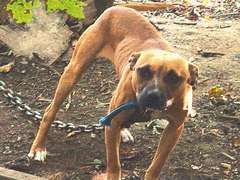 Northrup said he saw about 25 dogs chained to trees in the woods and heard more dogs barking inside a barn on the property. A neighbor said there were more dogs chained with heavy log chains to trees farther back in the woods and 10 more puppies inside the home. It was estimated there were between 50 and 75 pit-bull dogs scattered throughout the property.

A Humane Society agent and deputy were preparing to get a search warrant to allow officials to check on the dogs well-being. Northrup said he was told the dogs have not been attended to for about a week. The dogs that were visible from a distance showed signs of poor health consistent with lack of food and water. Their thin coats were stretched taught over their rib cages showing each bone. Northrup said there was no official report as of yet and would not reveal the name of the owner.

He did say he had been called to the property in the last week for barking dogs complaints. He did manage to make contact with the property owner Friday morning. Northrup said he was told most of the dogs belong to a Cleveland man, but the property owner said he also owns about 10 of them. Humane Society Chair Nancy Frazier said through a phone interview that one Humane Society representative was at the property earlier in the day and was attempting to get a search warrant Friday afternoon. T

he Humane Society wants to make sure the animals are properly fed and watered, but they could not take the dogs even if it was necessary, she said. The Humane Society has no facility to take needy animals to at this time. She said the best they could do would be to contain the area where they were found to prevent theft or injury to the animals. Frazier said there is really no limit to the number of dogs that can be kept unless local limits enacted as in some municipalities. Officials would not speculate if the dogs were being used or bred for fighting and there was nothing to suggest that any of the dogs had died from their meager diets.

---
---