20 Ways to Help

Adopt a Rescued Dog

Build Fences

Care for & Train Dogs

Donate Money

Educate Kids

Find Homes

Get Handouts & Stuff

Learn the Facts

Talk to Owners

Watch Celebrity PSAs:

Chaining/Dogfighting
Dogfighting

Watch Chaining PowerPoint

Visit Dogs Deserve Better to join others helping chained dogs!






Want to donate $5 to UnchainYourdog.org?
Sign up for Ebates! You get a $10 welcome check and I get $5 toward this site's hosting fee.

Before you shop, start at Ebates.com, then choose from 1,800 stores such as Target & Amazon. Ebates gives you a percent back of your purchase. No points to redeem, no forms to fill out. You get a check in the mail or Amazon credit every quarter. It's that simple!



How to Build a Mesh Fence
Print this information in PDF

Contact Dogs Deserve Better for fencing grants up to $250. 757-357-9292 or info@dogsdeservebetter.org

Check out the Coalition to Unchain Dogs for fencing building videos and more information.

You can purchase all materials at farm supply stores such as Tractor Supply Company or home improvement stores such as Home Depot.


Supplies

Posts. Choose metal T-posts or wooden posts. You can get wooden posts cut to specifications. If you tell a store worker the dimensions of your fence, they can suggest how many posts you will need. Generally you will place posts about 8 feet apart.
Mesh cloth. It comes in rolls, in different strengths. Your fence will be stronger if you get a strong mesh (such as the welded wire below.)
Baling wire or metal ties to attach the mesh to the posts. Baling wire comes in a roll and can be cut into pieces. A heavy duty staple gun can also be used to attach mesh fencing to wooden posts.

Concrete if setting wooden posts (see below). Metal T-posts are also stronger if set in concrete. Ask store workers to advise you on how many bags to get for the type of posts you are using. Usually one 40-lb bag of concrete can be used to set two posts.
Shovel or post hole digger if setting posts in concrete.

---

Thin mesh and T-post

Strong mesh fencing

Instructions

Attach mesh to T-posts with wire ties or baling wire. Attach mesh at the top of the post, in the middle of the post, and at the bottom of the post.

A gate will work best if attached to a post set in concrete. You can purchase gates at home improvement stores. You can also make a gate out of wood and mesh fencing.


This gate was made with a wooden frame. Mesh fencing was stapled to the frame.




The wooden gate is attached to the wood post with a simple door hinge. A slide lock was also added to help keep the fence shut. A bike lock can also be used to keep the gate firmly shut.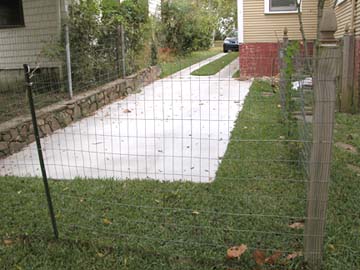 Wood posts were set in the corners, and metal T-posts were used
between corner posts. This fence has kept many 50-70 pound dogs inside.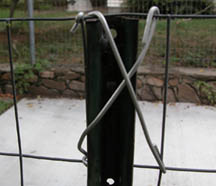 Two wire ties are used to attach the mesh to the top of the T-post.
Materials:
Strong wooden post
One 40 lb. bag of concrete mix is enough for 2 posts. You can use quick-set.
Stick or dowel
Water from a bucket or hose
Shovel or post-hole digger
Instructions:
Dig a hole for the post. The post needs to be at least 1 1/2 or two feet underground.
Put a few rocks in the bottom of the hole, then set the post in the hole. Itís easiest if you have someone to hold the post in the center of the hole.
Pour about one-third of the concrete mix into the hole (pour it around the post). Pour about half a gallon of water into the hole and stir the concrete around with the stick.
Keep adding concrete mix and stirring in water in until the hole is filled with the concrete mix. Refer to the directions on the package.
Cover the concrete with the dirt from the hole. Pile dirt or rocks around the bottom of the post to keep it in place while the concrete sets.
In 24 hours, you post should be set with regular concrete. With quick-set, your post will be ready in an hour.

---